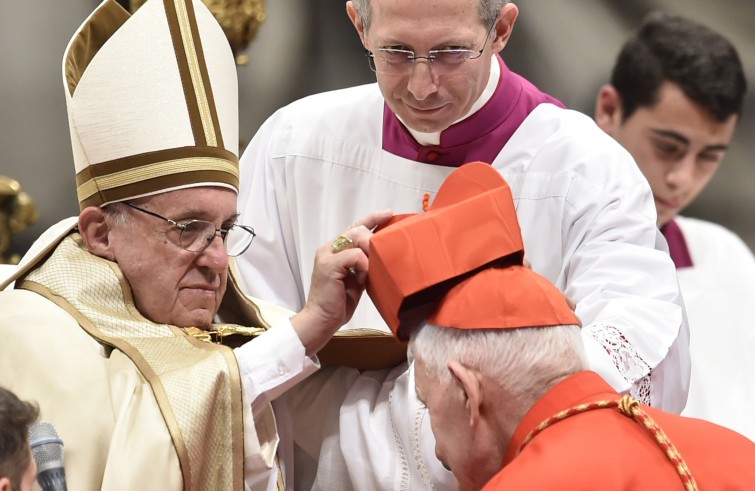 Certain lives are gifts to other people. Lives spent in the love for God and for the neighbour. Lives that never backtracked, not even in the face of torture and persecution. In Albania, under the Communist dictatorship of Enver Hoxha, priests, men and women religious and lay faithful, served as points of reference for others. The regime viewed them as a threat, for they represented a source of hope for those who were suffering, and the offering of their lives stood as an example for the people. Persecuted for their love of Christ, priests, religious and lay faithful were not afraid to die rather than renouncing their faith. Thirty-eight martyrs murdered under the dictatorship were beatified in Saint Stephen's Cathedral in Scutari, on November 5 2016. Albania today guarantees freedom of religion, and high numbers of missionaries, present also in the villages on the mountains marked by widespread poverty, are willing to face any hardship to make Jesus known. The mission was carried out until an older age also by Cardinal Ernest Simoni,  especially in the parishes of Barbullush and Trush, in Fushë Arrëz. Like many of his friends also the Cardinal was prepared to give his own life, but God had different plans for him. At almost 89 years of age (he was born in Scutari on October 18 1928), and after the terrible suffering inflicted as a result of the persecutions, the Albanian Cardinal today bears witness to the fact that faith and the love for Christ cannot be defeated by the powers of this world. His devout faith and his constant expressions of thanksgiving to the Lord for having given him the strength to overcome such difficulties, and his generous heart, never tainted by feelings of hatred, are impressive.
Your Eminence, the Albanian Church has been harshly persecuted for Christ, but faith resisted. Was this possible thanks to the witness of priests and devout religious like yourself?
Some of my priest friends were murdered on religious grounds. Jesus told us: "You will suffer persecution. But take courage: I have conquered the world." Jesus is near all those who pray to him, who do His will and love Him with works, mortification, daily prayers, and everything they do descends from the Divine Grace that enlightens the heart and the spirit of all those who love Jesus on the Cross, for the way to Paradise is not transient as the promise of this world: it's the sweetest and clearest way through the Cross.
This has been our daily goal: to bring Jesus to people's hearts.  
We spent every day making known the face of Jesus in their hearts and souls. This was made possible through the grace and force of the Holy Spirit.
After having met you on your return flight from Albania, in 2014, Pope Francis said: "To listen to a martyr speak about his own martyrdom is powerful!" We would like to know about that experience…  
The Communist regime tried to distance me from Jesus. I was considered an "enemy of the people."
Not wanting to deny my faith I was arrested on Christmas eve 1963 while celebrating the Holy Mass.
At the end of the celebration I was tied up in chains. They read out loud the hanging decree: I was found guilty of having said to the people: "For your faithfulness to Jesus you should be ready to die."
Were you afraid?
Jesus bestowed on me the Divine grace of facing any ordeal. The members of the regime did all they could to drive me away from Jesus by force. They asked me to blaspheme Jesus, the Church and the Pope. I refused to do any such thing, so they tied me up in chains. My heart stopped beating. I thought I was going to die.
Every martyr finds the strength to face his martyrdom in the love for Jesus.
But finally they did not carry out the death sentence …  
They had put a spy in my cell. He was a friend, who had come to eat meals with me in the rectory. He had changed and was trying to hinder me. He would provoke me by saying: "These Communists are delinquents, they want to destroy the faith." I replied:
"I am ready to give my life for Jesus. Jesus taught us also to forgive our enemies. With his love for everyone Jesus saved the world."
The spy referred what I had said to the dictator. After ten days they commuted my death sentence into 18 years of imprisonment at the Spac labour mine. Upon my release from prison I was again sentenced to forced labour. I worked ten years in Scutari's sewers.
What sustained you in these long, painful years?  
The light, the love, the Divine Grace, accompanied me every day.
I never lost my faith.
I continued celebrating the Holy Mass, with a host I secretly baked on small burners, while for the wine I took grapes' juice. I said the Holy Rosary and I confessed my fellow prisoners and in the mines. God sustained us and saved us all.
What is the situation of Christians in Albania today?
Today everything is clear and beautiful.
There are no more obstacles for those who want to follow Jesus. But there remains the great commitment to save the souls, for many are those who are still distant from Jesus.
There are approximately 600 thousand Catholics living in Albania today, but the exact figures of Albanian Catholics, Orthodox and Muslims is unknown, for they are scattered throughout the world. However, Catholics are a minority in the Country.
How is this coexistence?  
In Albania today everything is marked by love, brotherhood, consensus, agreement. Everyone prays. It was a special grace of the Lord.
Was it hard to return to profess the faith after the atheist regime collapsed?
Quite to the contrary: when the Communist regime collapsed the entire Catholic people sought Jesus, prayed to God, and churches and mosques were re-opened.
With the onset of religious freedom the Lord helped me serve many villages and reconcile many people seeking revenge, and to keep hatred out of their hearts.