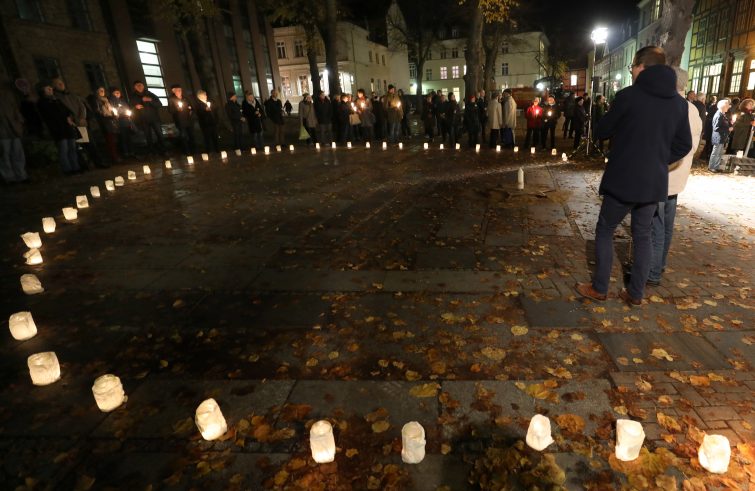 November 9 remains one of the most momentous dates in German history. Eighty years ago, on November 9 1938, in Würzburg, and in cities and towns of Austria and Germany, synagogues were burned down, Torah scrolls were desecrated and destroyed, Jewish homes and shops were ransacked, vandalized, and Jews were attacked in the streets. In the following days, up to 30 000 Jews were arrested.
"Kristallnacht" is the first instance marking the passage from legally authorized discrimination and social exclusion of Jews to the systematic persecution that led to the Shoah. The fact that so many people, many of them Christians, pretended not to see or remained silent witnesses, fills us with shame still today.
But November 9 is not only the date of the Kristallnacht. On November 9 1918 Germany was proclaimed a Republic. The previous day, the Free State of Bavaria was established in Munich. However, November 9 also marks Hitler's putsch attempt. In the early hours of November 9 1923, Adolf Hitler and General Erich Ludendorff attempted to seize power in Munich. It was a failed coup, but ten years later Hitler was appointed Chancellor. Finally, November 9 is the day when the Berlin Wall was torn down. Most of us remember that day.
Some may wonder whether it is still necessary and meaningful to remember Kristallnacht. If we view Kristallnacht against the backdrop of other events commemorated on November 9 we will immediately understand why celebrating the memory of that night is meaningful and necessary still today.
I wish to underline two points. First of all, the events of November 9 show us that the Rule of Law and democracy and not conquests that we can take for granted. Democracy based on the rule of law was and remains a form of government in danger of extinction, for it reposes on beliefs shared by all citizens, on underlying moral consensus. The respect of human dignity and of fundamental human rights is not only the responsibility of every social power, as enshrined in the Constitution. It's also a moral norm that must determine the political culture of the Country and its social cohabitation. Democratic rule of law envisages that in their everyday life citizens relate to one another with respect, impartiality and benevolence, that they feel responsible for each other, that they fight for the truth. Peaceful coexistence is at risk wherever these values are overstepped. They not only constitute blatant infringements of the law, jeopardizing or damaging intrinsic consensus. The last years of the Weimar Republic
clearly show that the barbarization of language leads to the barbarization of habits.
Secondly, Jewish life acts as a seismograph of German society. It acted as such 80 years ago and it still is today. Thanks God today we don't face the threat of organized State repression. Today, the police patrol synagogues, Jewish Community centres, preschools and schools. It's reassuring, but it's not normal. After all, it's not normal that the word "Jew" is used as an insult in playgrounds of some schools and that Jews wearing a Kippah are faced with verbal or physical aggressions.
The tragic events of 80 years ago have taught us that we must never turn a blind eye when Jews are attacked, in any way whatsoever. It is our obligation to fight against anti-Semitic prejudices and counter attacks against the Jews. It is our duty not only as citizens but also as Christians.
Pope Francis has expressed it in a well-known phrase: "A Christian cannot be an anti-Semite!" To this I wish to add that a Christian must show solidarity with the Jews. We must not and cannot turn a blind eye!
(*) Archbishop of Munich and Freising
President of the German Bishops' Conference