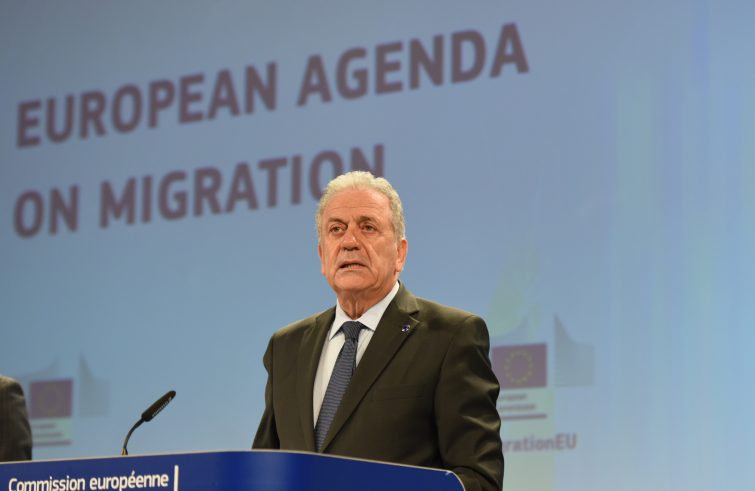 An agreement has been finally reached . Thanks to the mediation of the European Commission eight Countries (out of 28!) have agreed to receive all 49 people rescued at sea by the Sea Watch and Sea Eye vessels, exposed to hunger and cold temperatures for three more weeks, while Member Countries' governments were playing the blame game. The reallocation program includes 249 migrants who recently disembarked in Malta. A group of them, arriving from Bangladesh, will be repatriated.
"At the Commission, we spared no efforts to coordinate relocation pledges among Member States and make the disembarkation possible", said Commissioner Dimitris Avramopoulos, worn out by the last days but pleased by the final results. "Believe me it was not easy but it worked. I was myself in direct contact with a number of Ministers. I have also called publicly on all Member States to show more solidarity." Showing solidarity "is a message I will never tire of repeating. I am very glad that our efforts have shown results in the end and that all those on board are being disembarked right now."
"The past weeks have not been Europe's finest hour", added the Commissioner for Migration Dimitri Avramopoulos in the press room of the Berlaymont building in Brussels, seat of the executive of the European Union. "Having 49 people on boats at sea is not what the European Union stands for. The European Union is about human values and solidarity, if they are not upheld it is not Europe." He then enlisted – with gratitude – the Countries that have agreed to receive them. These are: Italy, France, Germany, Luxembourg, Portugal, Romania, Ireland and Malta. "These are temporary arrangements", the Commissioner added, reiterating the need to implement a veritable common policy on migration that includes safe seas and borders, combating trafficking in human beings, repatriations, development cooperation with countries of origin and transit of migratory flows.
The Commissioner commended Malta in particular, "our smallest Member State displaying biggest solidarity." "The disembarkation of migrants is taking place right now. They will then be transferred to the Countries that have offered to receive them. It is necessary to determine rapidly whether these migrants are entitled to protection." A special thanks was conveyed to Spain, "that has carried out a number of Search and Rescue activities during the Christmas break." The Commissioner made it clear that all the vessels operating in the Mediterranean must respect the applicable laws, and confirmed that the current situation in Libya does not allow for the repatriation of migrants. "We will continue reducing irregular migratory flows towards Europe, we have to be prepared that some migrants will be arriving. It is for exactly this reason that we need predictable and sustainable mechanisms in place", extending beyond "temporary arrangements" such as the one achieved at this stage."We must ensure solidarity with the most exposed EU countries", Avramopolous pointed out, "until the new Dublin Regulation becomes applicable." Now is the time, he said, "to finalise the reform of the EU's asylum rules." Finally, answering a question by a journalist, the Commissioner declared: "The European Commission does not exert pressure of any kind on Member States' governments", because it does not have the power nor is it in the position to interfere, "but its commitments include coordinating the efforts of Countries that agree to cooperate." "We went a long way since the tragic situation of 2015, when we were all caught unprepared. Now we need to put into effect new, permanent mechanisms regarding migration."