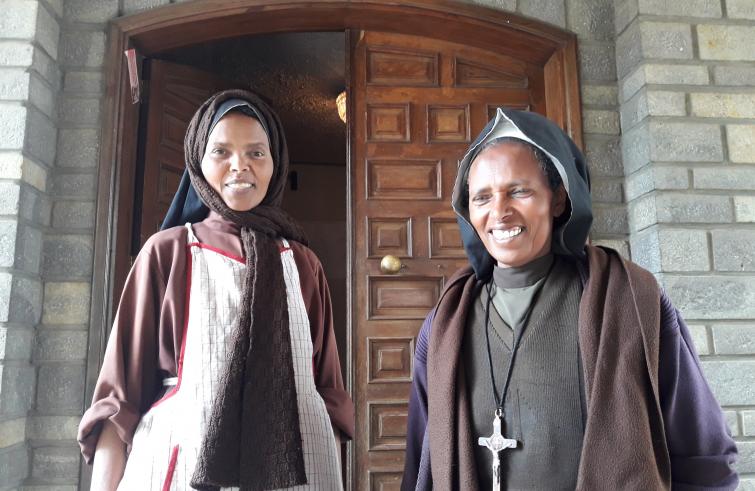 (Addis Abeba) – "I constantly tell them not to leave, we can't take it no more to count the dead, in the desert or at sea. Try to change your life here. But since in Ethiopia the refugees cannot work nor return to our Country, they have no other choice." Sister Akberet has been living for 26 years in Addis Abeba, Ethiopia. She is a cloister nun, a capuchin Poor Clare sister, her institute is located in Eritrea but she is among those who can no longer return. She fled when the war broke out between the two Countries. She too is an Eritrean refugee. She has already mourned the loss of two nephews and other members of her family who died in the desert, in Libya and the Mediterranean, during the hope journey to Europe. She mourns others who perished every day, many still try to leave, but they don't succeed. For those who remain she exceptionally opens the door of the cloister.
Two cloister nuns, a life of extreme poverty. In the convent, a simple wooden house on the outskirts of Addis Abeba surrounded by a high wall and few banana trees, there are only two nuns who lead a life of extreme poverty.
Without help or resources they are trying to give moral and spiritual support and some hope to at least 450 Eritrean youths and children, the offspring of the refugee camps.
Ethiopia gives refuge to some 900.000 South Sudanese, Eritrean and Somali refugees, and hundreds continue arriving every day. Many of them were transferred with their families in the capital of Ethiopia: they are the "urban refugees" who help the two nuns and receive a scanty monthly subsidy from the governmental agency ARRA. Owing to their refugee status they can neither seek a job nor build a future for themselves. The nuns occasionally take up a collection in the communities to finance scholarships for at least a few of them.



Five in Italy with humanitarian corridors. Sister Akberet, which means "Honoured" (here every name has a deep significance), opens the large door to welcome us in, but first she greets a friend, one of 113 refugees of the humanitarian corridor program promoted by the Italian State in conjunction with the Community of Sant'Egidio and the Italian Bishops' Conference that finances it with Eight per Thousand tax devolvement funds and acts through Caritas Italy and Migrantes. He's among the most fortunate ones because his family (wife and two children) is on the point of starting a new life. Also another young women will be leaving with them, while hundreds of youths will stay here. "They are happy for those who succeed but they are also sad because they were not given the same opportunity", said Sister Akberet with her calm and composed tone of voice, speaking perfect Italian. A group of fifty youths are gathered in the adjacent room for a spiritual retreat. In the last period a Salesian monk has been coming to celebrate Mass. "The Eritrean people are hurting – she said – it's sad for families to be left without their children.".
"These young people spend a great amount of time in harsh situations, with no hope of a future. We can't take it any more to mourn the many refugees who die during their journey."
Prayers and cries. The nuns cry and pray in their private chapel adorned with white veils, with the statue of Saint Chiara and a painting of Saint Francis on the wall. Large drums for chants are piled in a corner. The outside wall bears the inscription: "The Church is a hospital for the sinners, not a museum for the saints."
They pray three days running after the community learns that one of their sons is dead or displaced.
They celebrate Mass as if it were a funeral service, they pray again six months later, a year later, so their recollections may not be dissipated, like the bodies.
"How many have died in the desert or at sea? They are so many they can't be counted",
the nun replied, with constant suffering that words cannot contain.
"we have no more news of many of them. It's heartbreaking when the mothers come here for news and we have to console them. Many of them fall ill as a result of so much suffering."



"Helping those who remain." She stands up to bless the bread to be offered to the guests, with tea and good ground coffee, Ethiopian style. She continues expressing her worries for these youths, for her people. She signalled five Eritrean refugees to the coordinators of the humanitarian corridors program. "I choose the poorest among the poor or with serious health problems" – she cannot find peace for those who remain:
"I have this in my heart: I don't want to make preferences, it's fair that also other people have this opportunity. Or help those who remain. We must not abandon them."  
The two nuns don't receive economic support of any kind, not even from Europe. They can be helped in their mission – pointing out that aids are for the Poor Clare nuns of Addis Abeba –t hrough the Habeshia Agency of Fr Mussie Zerai , who is constantly in touch with them.